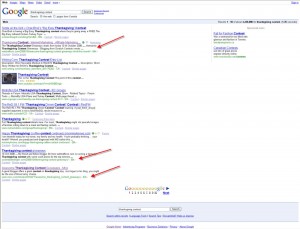 How did my Thanksgiving Contest post get indexed in Google at position 2 in 2 days ?
 - Google can be very friendly to your site at times and can be a terror at times, its easy to tame Google if you know what it loves . Its just like knowing and understanding your spouse.
There are a few basic things that Google loves :
Thats precisely what I did for my
Thanksgiving Contest
post. I used all the above elements well and Google rewarded me for doing this.
I used an upcomming local event (
Thanksgiving
) and created a contest around it on my post.  I knew that people would search for the event and if I use the mix well I could rank higher and faster on Google. 
Close to 80 % of my traffic is from Search Engines, I have not yet spent any money on banner ads or featured links on any site. The rest of the traffic comes from commenting on other sites.
I ve got more than 50 comments for the Thanksgiving contest post and over 750 views in the last 10 days. Ranking  on Google is not magic and any site can be optimised to
rank high on Google
The above screenshot is taken from Google, the arrows show the different sites that have posted the Thanksgiving contest also being picked for the term
Thanksgiving Contest